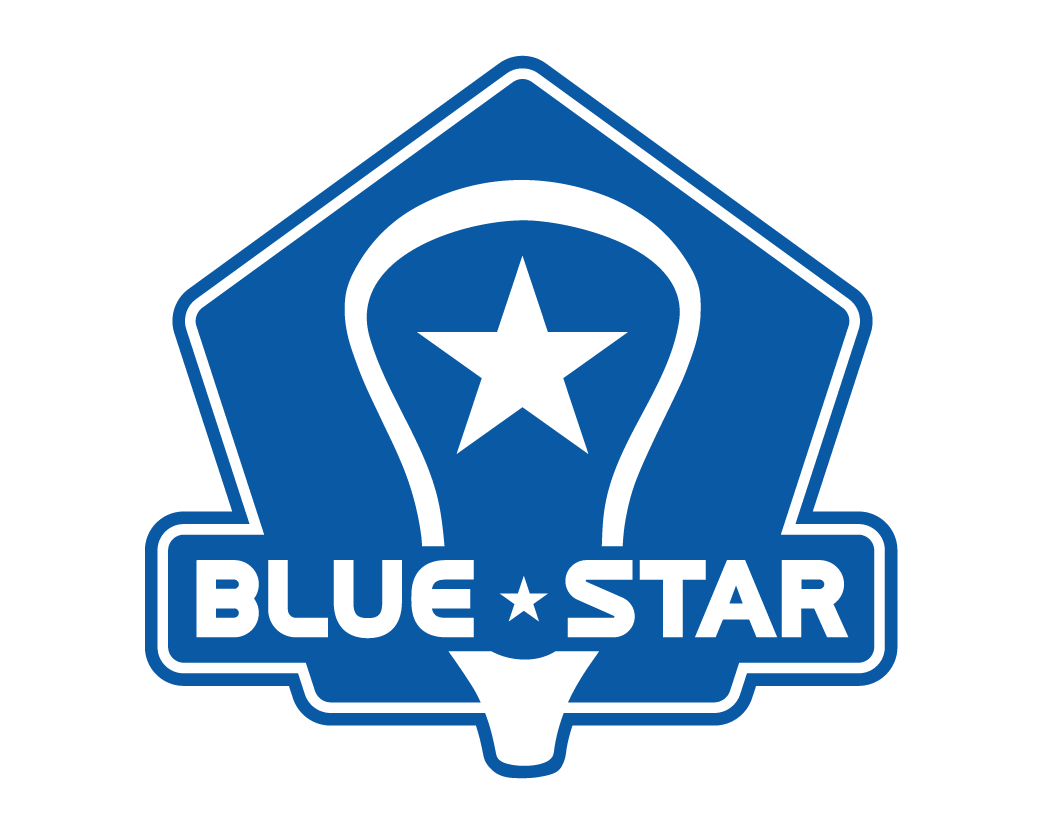 Girls Blue Star Ages
HS (2023, 2024, 2025, 2026)
14U (2027, 2028) or 7/8th graders
12U (2029, 2030) or 5/6th graders
Boys Blue Star Ages
HS (2023, 2024, 2025, 2026)
14U (2027, 2028) or 7/8th graders
12U (2029, 2030) or 5/6th graders
10U (2031, 2032) or 3/4th graders
Register below to attend the evaluations!
REGISTRATION LINKS FOR TRYOUTS / EVALUATIONS LOCATED AT BOTTOM OF PAGE

The Blue Star Academy is an advanced Summer and Fall/Winter travel team and technical training program within Lou Fusz Athletic (LFA) that is focused on the elite development of our most competitive lacrosse players. The Academy exists to identify top performing middle school and high school players that strive to play at the collegiate level. With a focus on technical skill development, high-level positional coaching, and competing in leagues and tournaments against the best of best, Blue Star empowers our lacrosse players to reach their full potential.
The Academy continually challenges the players with a top-notch curriculum in a fast-paced, competitive atmosphere. Utilizing world-class indoor and outdoor facilities at Lou Fusz Athletic, Blue Star provides the necessary tools and resources for players looking to take their game to the next level. The staff is led by former collegiate and pro players that have transitioned into LFA's veteran coaches and bring a wealth of lacrosse knowledge and experience to our players.

BLUE STAR PROMISE:
Our amazing staff and coaches will be there every step of the way to help you achieve your dreams of playing college lacrosse! 
What Is Included in the Blue Star Academy?
- The Most Passionate, Energetic and Knowledgeable Coaching Staff in St. Louis
- Position-Specific Coaching (Goalie / D / O / Face-Off & Draw)
- World-Class Indoor / Outdoor Training Facilities
- FREE SportsRecruits Profile (the best online recruiting software to communicate with college coaches and post film)
- Special Blue Star Uniforms, Gear & Apparel
- Tournaments & Showcases (number varies by season/age/team)
- Weekly Practices & Trainings
- Weekly League / Game Play
- College Recruiting Nights
- Weight Training, Strength & Conditioning Programs
- Full-Time & Dedicated Men's & Women's Directors
- Personalized College Recruiting, Mentorship & Advice
- Video Highlight Critiques & Help
- Free Trainer Services from The Young Athletes Center & St. Louis Children's Hospital
- Special LFA Partner Benefits, Resources & Discounts
- Specialty Camps & Clinics and MORE!
2022 Blue Star Academy Fall/Winter GIRLS & BOYS TRYOUT Registration NOW AVAILABLE!
Blue Star Academy Evaluations are OPEN TO ALL PLAYERS & EXPERIENCE LEVELS (regardless of club or school affiliation)
- Each Blue Star Academy season will have their own separate tryouts. If there are players that are not at the Blue Star level, there will still be options to play on one of our local, no-cut recreational teams.
- Practices, Games and Tournaments are all subject to change due to COVID-19
- The latest COVID-19 rules and guidelines will always be in place, please trust that we are constantly monitoring and looking out for our players and their family's safety.
Girls Blue Star Fall/Winter Tryout Registration, NOW OPEN!
GIRLS TRYOUTS DATES & TIMES
DATES: Aug. 10th & 15th (2-day tryout)

12U: 5:15pm- 6:15pm
14U: 5:30pm-7:00pm
High School: 7:00pm-9:00pm

LOCATION: Lou Fusz Training Center
1 Athletic Drive, Earth City, MO 63045
HAVE QUESTIONS?, CONTACT OUR GIRLS DIRECTOR!
Natalie Simpson, Girls Director
(858) 334-3099
natalie.simpson@loufuszathletic.com
Boys Blue Star Fall Team Tryout Registration - NOW OPEN
BOYS TRYOUTS DATES & TIMES
BOYS: August 16th 
10U - 6:15pm-7:30pm
12U - 6:30pm-8:00pm

BOYS: August 17th 
14U - 6:00pm-7:30pm
High School - 7:30pm-9:00pm

LOCATION: Lou Fusz Athletic Training Center
1 Athletic Drive, Earth City, MO 63045

HAVE QUESTIONS?, CONTACT OUR BOYS DIRECTOR of PLAYER DEVELOPMENT!

Andrew Spillars, Boys Director of Player Development
(314) 596-6169
andrew.spillars@loufuszathletic.com
Register to attend evaluation!
Have Questions? Contact Us!
Natalie Simpson
LFA Lacrosse Director of Girls Development // Blue Star Girls
Phone: 858-334-3099
Email: natalie.simpson@LouFuszAthletic.com
Todd Dillon
LFA Lacrosse Executive Director // Blue Star Boys
Phone: 314-221-7895
Email: lacrosse@LouFuszAthletic.com
Questions about Blue Star Teams / Evaluations? Contact Us!
Setting an exact time and date for a phone call or face-to-face meeting is recommended and encouraged.