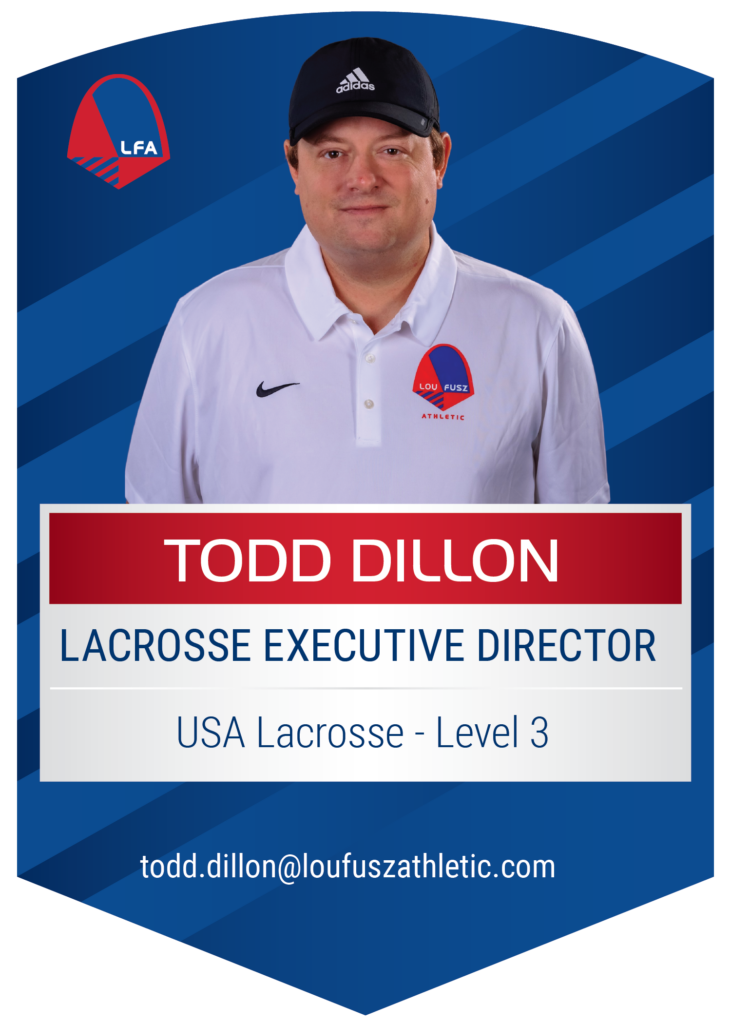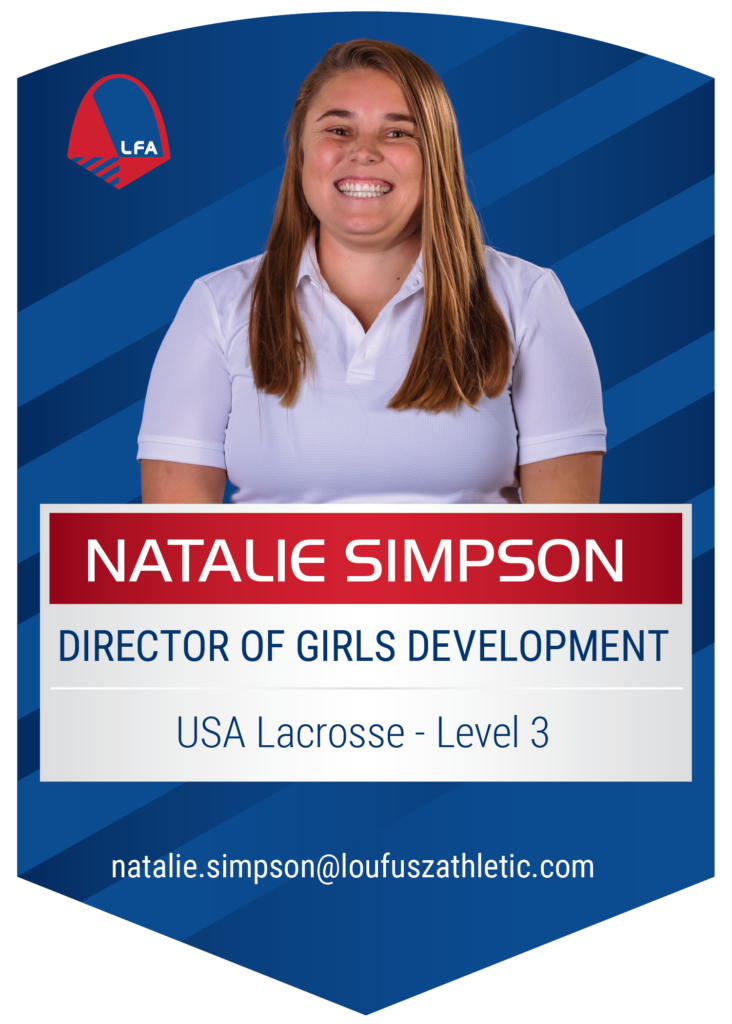 Todd Dillon (LFA Lacrosse Executive Director // Founder)
Coach Dillon has been actively involved in the game of lacrosse both locally and nationally for more than 20 years. Dillon was a captain and 3x all-star midfielder during his high school days at Kirkwood (1996–1998) & CBC (1999, where he helped form it's very 1st team, and played a large role in leading them to the MSLA semi-finals). Dillon played collegiate lacrosse at Wittenberg University (DIII) in Ohio, where as a freshman, he was a starting midfielder and voted Rookie of the Year by teammates (2000).
Post-college, Todd helped establish and run both the Fall Face-Off (DI Fall Ball Tournament held in STL, MO from 2003–07 featuring national powerhouses such as Notre Dame, Princeton, Syracuse and more), and the first inner-city youth lacrosse program in St. Louis at the Mathews Dickey Boys and Girls Club, where he was a volunteer coach and director (2007–14). From 2007–09 while working professionally in advertising at the agency CORE, Dillon worked on national campaigns for the two largest lacrosse companies (Warrior and Brine Lacrosse — both owned by New Balance). As a senior Account Executive, he led all digital, print, catalog, event and TV marketing for the brands, developing and producing ads that ran nationally on ESPN and printed in Inside Lacrosse & Lacrosse Magazine.
Dillon turned his passion into a full-time profession in 2015 with the launch of Lou Fusz Lacrosse. In the few years since it's founding, Lou Fusz Lacrosse has quickly become not only the largest program in the state of Missouri, but already one of the largest in the Midwest. Todd couldn't be more excited about the future of the sport both locally and nationally. "To be partnered with such a St. Louis business and sports institution like Lou Fusz is a dream come true. I'm so blessed to be able to use the resources, name brand and facilities that Lou Fusz has to get more sticks in hands and to continue to introduce the sport I love to as many as possible."
Dillon also is currently President of the Michael Sennett Count On Me Foundation (501(c)3 dedicated to providing lacrosse opportunities and scholarship to economically disadvantaged kids and families), which he helped establish in 2011. The Foundation has had several of it's former players now living out their dreams of playing college lacrosse and earning a college degree. Dillon recently won the US Lacrosse (St. Louis Chapter) 2018 Tamara S. Boots Youth Commitment Award, for outstanding commitment in the development of youth players, coaches officials, involved parents, support organizations, and leagues. Dillon also serves as the current US Lacrosse (St. Louis Chapter) Diversity & Inclusion Chair, a role he his very passionate about. "Lacrosse truly opened up so many doors and opportunities for myself and my family. Like my father always says, it saved my life. Now I'm looking to give back as much as I can, to help and inspire others with the same passion and spirit of those that did the same for me."
Todd Dillon
Lou Fusz Athletic Lacrosse
Executive Director
314-221-7895
todd.dillon@loufuszathletic.com
Natalie Simpson (Director of Girls Player Development)
Playing Experience:
- University of Oregon: NCAA Division I
- Lindenwood University: NCAA Division II
- 2 NCAA Division II Final Four Appearances
- 2 Time RMAC All-Academic Selection Team
- Under Armor Underclassmen Regional Team Member

Coaching Experience:
- FCA Camp/Tournament Coach
- Lou Fusz Lacrosse Head Coach since Spring 2017
- Vizitation HS Varsity Coach
- Took school to first sweet 16 playoff appearance in 17 years
- First winning record for Viz in school history
- Biggest tryout participation in Viz school history
- Highest Playoff and Conference ranking finish for Viz in 17 years
- Selected as Under Armor All American Midwest Regional Coach
- Mentored & Coached 18 College Commits in only two years of the program existing
Team & Personal Achievements:
- 2022 40-12-5 record in HS Elite Team Summer & Fall Tournaments
- 2022 Under Armor All America - Midwest Region Coach & Evaluator
- 2022 Sandstorm Finalists (Blue Start National Elite 2025/26)
- 2022 NGLL Participants - first team from St. Louis to participate (Blue star Elite 2026/27)
- 2022 SLYLA Champions In Every Age Group (14UAA, 12U, & 10U)
- 2021 Route 66 HS Division Champions (Blue Star National Elite)
- 2021 Brine National Cup Finalists - Game Nationally Televised on ESPN (Blue Star National Elite)
- 2021 Brine National Cup Midwest Qualifiers (Blue Star National Elite)
- 2021 Laxtoberfest HS 2022 Division Champions (Blue Star National Elite)
- 2021 Laxtoberfest HS 2022/2023 B Division Champions (Blue Star MW Regional Blue)
- 2021 Laxtoberfest MS 2027/2028 Division Champions (Blue Star Premier 2027/28)
- 2021 Laxtoberfest HS 2025 Division Finalist (Blue Star National Elite 25/26)
- 2021 SLYLA Champions In Every Age Group (14UAA, 12U, & 10U)
- 2020 Indian Prairie Showdown 14U Champions (14U Blue Star Premier)
- 2020 Laxtoberfest 2023/2024 Champions (2024/25 Blue Star Premier)
- 2020 Laxtoberfest Open Silver Division Champions (Blue Star Premier)
- 2020 KC Heartland Fall Classic 14U Champions (14U Blue Star Premier)
- 2020 KC Heartland Fall Classic 12U Champions (12U Blue Star Premier)
- 2020 Great Pumpkin Shootout HS A Champions (Blue Star Premier)
- 2020 Great Pumpkin Shootout HS B Champions (2024/2025 Blue Star Premier)
- 2020 Great Pumpkin Shootout 14U Champions (14U Blue Star Premier)
- 2020 Great Pumpkin Shootout 12U Champions (12U Blue Star Premier)
Natalie Simpson
Lou Fusz Athletic Lacrosse
Director of Girls Player Development
858-334-3099
natalie.simpson@loufuszathletic.com