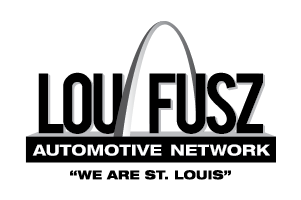 We wear the Lou Fusz name proudly upon our uniforms. The Lou Fusz Soccer Club was founded in 1992 by Lou Fusz Jr. and former professional soccer player and coach, Don Popovic— as a 501(C)3 and part of the Automotive Network's charitable arm with a mission to positively influence every young athlete in the St. Louis, MO area. Now, in 2018 and under the name Lou Fusz Athletic, we are one step closer to achieving the mission with the inclusion of lacrosse and American football in addition to soccer.
Lou Fusz Automotive History
The origin of the Lou Fusz Motor Company dates to 1952 when Louis Fusz, Sr. purchased the outstanding shares of a Dodge and Plymouth dealership. Two year later, Mr. Fusz bought West End Pontiac in Clayton and subsequently changed the name of the dealership to Lou Fusz Pontiac. In 1956, the business was moved to 1075 South Brentwood. During the following year , MG and Austin Healey franchises were acquired, and the Lou Fusz Motor Company was formed.
As the business in Clayton escalated, Mr Fusz found it necessary to enlarge the facilities. Property at 1025 N. Lindbergh was acquired for expansion and in 1965, the Pontiac dealership was relocated to this site.
In 1969 after his graduation from college, Lou Fusz, Jr. joined the company. He soon undertook the duties of General Manger and Vice-President. Soon after that Lou Fusz, Sr. became the chairman of the Board and Lou Fusz, Jr. became President and Chief Operating Officer.
Fast forward to today, and you'll see the Lou Fusz Automotive Network now has 17 dealership locations across the St. Louis, MO region, with auto brands including Alfa Romeo, Buick, Chevrolet, Chrysler, Dodge, Fiat, Ford, GMC, Jeep, Kia, Mazda, Mitsubishi, Subaru, and Toyota/Scion.