Soccer Staff / Leadership
To view the soccer directory of all LFA teams / coaches, please click the button below.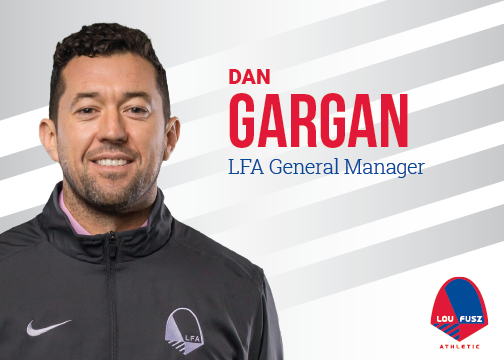 Dan Gargan // Lou Fusz Athletic General Manager
dan.gargan@loufuszathletic.com
Gargan began his 12-year professional career being drafted by the Colorado Rapids. He went on to play in over 200 professional games, highlighted by two Canadian Championships with Toronto FC and a MLS Cup championship in 2014 with the LA Galaxy. Since his retirement as a player, he has stayed active at the highest levels of the game, working as a MLS color analyst with Fox Sports. A firm believer in continuing education, Dan recently completed the United States Soccer Federation (USSF) National B License and will be moving on to the A at first convenience. Dan's experience at all levels of the game in this country provide Lou Fusz Athletic with great leadership and a vision for this club to continue to prosper and evolve.
David Critchley // Technical Director // Girls Academy Director
david.critchley.lfa@gmail.com
Critchley comes to LFA with experience playing in both England and the United States. Coming to the States to further his career, Critchley was a two-time captain at Oklahoma Wesleyan College. His involvement in coaching includes the college, high school and youth levels, while also leading elite athletes around the Midwest onto the collegiate/professional game. In addition to his extensive coaching background, he has obtained a USSF National A License, UEFA A License, United Soccer Coaches Premier Diploma, USYS National Youth license, and the La Liga Methodology License. Critchley also leads Coaching Education and Development Programs.
Matt Mueller // Director of Coaching & Competition
matt.mueller@loufuszathletic.com
Mueller worked for St. Louis Scott Gallagher Soccer Club for 13 years before coming over the Lou Fusz Athletic. During his time at SLSG, Mueller worked for the Missouri Boys and Girls Divisions in various roles and has worked in the STLFC Academy and SLSG Pre Academy divisions as a coach. Mueller currently holds the USSF Director of Coaching License as well as the USSF A-License.  He is very passionate about individual player development as well as how that relates to overall team and club development. Matt will be a great leader as our DOCC for the club while overseeing our Boys Futures age groups. "I am so proud to be part of this community and to continue to help grow the game of soccer in the next generation of players and teams at Lou Fusz Athletic."
Ren Herzog // Director of Juniors Development
ren.herzog@loufuszathletic.com
Herzog's passion for the game led him to begin his youth coaching career while still playing soccer at Missouri Baptist University. He was promoted to Missouri Boys Youth Director at SLSG in 2014, managing player identification, team placement, and specialty training. In 2016, Herzog transitioned into the U10 & U11 age groups as a coach for the PreAcademy boys teams and remained there until coming to Lou Fusz Athletic. In addition to his extensive coaching background, Herzog holds a USSF C License. Ren will bring a wealth of experience to these age groups in directing and building a technical foundation that will last a player their entire career. "Having an impact on a player's development while being able to instill a philosophy in an environment like Lou Fusz where players are excited and focused is what exhilarates me."
Timothy Lanfersieck // Director of Star Academy
tim.lanfersieck@loufuszathletic.com
Lanfersieck started work with Lou Fusz Athletic in the camps program in 2009, and now has spent 10+ years working exclusively with these age groups. Since then, his position has continued to grow within the club by taking on roles such as the LFA Indoor Winter Soccer League Manager and  has moved up within the Star Academy from coach to Assistant Director to now the full-time Director. He has spent the several years working alongside the club's TD, David Critchley, to understand the importance and differentiation placed on this program. In addition to his experience at LFA, Lanfersieck holds a USSF National D License.
Franco Carotenuto // Director of Tournaments,
Director of Goalkeeping
franco@fusz.com
Carotenuto has developed several successful, large-scale  tournaments held annually at Lou Fusz Athletic (some of which are the biggest turnout in the region); bringing competitive teams to the St. Louis landscape from not only the Midwest area but from across the nation. Carotenuto holds the USSF 'A' Coaching License and the USSF highest level Goalkeeping Certification. Before coming to LFA, he enjoyed a professional playing experience from 2009–2012, playing for the Kansas City Wizards (MLS), Queretaro Gallos Blancos (Mex. Primera), Arizona Sahuaros (PDL). He was also coaching at the collegiate level from 2012–2017, including Saint Louis University & Washington University of St. Louis.
Wendy Dillinger // Director of Juniors Blue Star, Girls
wendy.dillinger@loufuszathletic.com
Dillinger comes to LFA with 22 years of full-time college coaching experience at the NCAA Division I, II and III levels (Indiana, WashU, Iowa State, UMSL). Dillinger's playing career began with CYC (Seton) and ended in the first domestic women's professional league (WUSA - Atlanta Beat) alongside Sun Wen, Homare Sawa, and Brianna Scurry. She holds a National Diploma and still holds career scoring records for goals and assists at Indiana University. Her primary focus is on the development of the whole player- she encourages investment, hard work, and passion at home, in the classroom, and on the soccer field.
Chris Gomez // Director of Juniors Blue Star, Boys
chris.gomez@loufuszathletic.com
Gomez returned to St. Louis after college and put his Sports Management degree to work at St. Louis Scott Gallagher, where he acted as the Boys Assistant Youth Director, coached in the Pre Academy and Administered Player Development Programs for 6 years before coming to Lou Fusz Athletic. Gomez currently holds his USSF D-License and plans to continue his coaching education. "I am thrilled at the opportunity to help develop players on and off the pitch for the city of St. Louis and our country. I am very excited about the direction and vision of Lou Fusz Athletic."
Chen Zakaria // Director of Juniors, Girls
chen.zakaria@loufuszathletic.com
Zakaria has built a wealth of experience since 2008 at Lou Fusz Athletic dedicated to youth soccer, and has one of the most trusted & respected names in the St. Louis area. He pushes the Fusz Philosophy by teaching his players invaluable life lessons about fellowship and accountability, while instilling discipline and respect in his team members. It is his mission to mentor young players and provide them with the tools and learning opportunities they need to develop into strong, well-rounded, and confident young ladies. Zakaria has continued his coaching education and obtained his USSF National C License & USYF Level 1 Coaching License.
Chris Meyer // Director of Juniors Red Star, Girls
chris.meyer@loufuszathletic.com
Meyer has been coaching the 2008 Blue Star Red Girls for the past 3 years. He has been a great teacher, technical trainer and game tactician for the teams he has coached here at LFA. Meyer's teams have won the USYF Futsal Regionals 3 years in a row and have placed in the Premier SuperCopa. Meyer creates a positive environment for all of his players and will continue that trend into his new role here.
Sean Taylor // Director of Juniors White Star, Boys
sean.taylor@loufuszathletic.com
Taylor has an extensive background in both coaching and playing at a collegiate level. While attending Missouri Baptist University, he played soccer and obtained a Bachelor of Science in Sports Management. In addition to playing at a collegiate level, Taylor coached at St. Louis Community College. Since 2015, Taylor has run youth camps, organized LFA's Free In-club Technical Training and coached numerous competitive teams here at Lou Fusz Athletic.
Jake Smith // Director of Juniors Red Star, Boys
jake.smith@loufuszathletic.com
Smith played soccer at a Division II level at South Dakota School of Mines and then went on to continue his soccer career at Missouri Baptist University, here in St. Louis. While focusing on playing soccer and getting his Bachelor of Science in Exercise Science, he worked as a camp coach and team coach at Lou Fusz Athletic where he developed a passion for coaching. Smith holds his USSF D Licence and plans to continue his coaching education in the future. "The St Louis Soccer Community is unbelievable. There is such a passion for development in this city, it is unlike any other area. LFA is a special club to me and I am excited to have the opportunity to take on a bigger role."