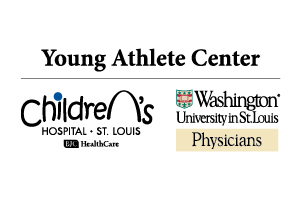 Parents/ Players/ Coaches can schedule an appointment with YAC Athletic Trainers via email or text to:
Tom McGowan MEd., ATC, LAT
Athletic Trainer
Email: tom.mcgowan@bjc.org
Office Phone: 314–324–0367
The physicians of the Young Athlete Center are board-certified, fellowship-trained specialists with one goal: to keep your athlete healthy and safely playing. We work with specialists across Washington University Physicians and St. Louis Children's Hospital to provide trusted care to pediatric and adolescent athletes. For more info and to schedule an appointment with one of our physicisans, please click on their name below!
Terra Blatnik, MD
Dr. Blatnik specializes in the nonoperative treatment of all musculoskeletal sports-related conditions in pediatric and adolescent patients ages 5 and above.
Mark Halstead, MD
After completing a residency and chief residency in pediatrics at the University of Wisconsin, he completed a fellowship in nonoperative pediatric and adult sports medicine at Vanderbilt University. He was the lead author of the AAP clinical report on "Sport-Related Concussions in Children and Adolescents" published in 2010 and revised in 2018 and also was the lead author of the AAP clinical report on "Returning to Learning after a Concussion."
Jeffrey Nepple, MD
Dr. Nepple specializes in pediatric and adolescent sports medicine, and is the Director of the Washington University and St. Louis Children's Young Athlete Center. He has clinical interests in adolescent and young adult hip disorders with a specific focus on minimally invasive arthroscopic techniques for the treatment of these disorders. Dr. Nepple also has clinical interests in pediatric and adolescent knee disorders.
Certified Athletic Trainers
Paul Jenkins, PT, MSPT
COORDINATOR, YOUNG ATHLETE CENTER
REHABILITATION SUPERVISOR, CHILDREN'S SPECIALTY CARE CENTER
Paul has been a physical therapist for 27 years and has worked at St. Louis Children's Hospital for the last 26. During that time, he has served on the board of directors for the St. Louis Wheelchair Athletic Association and the Living Well Village. He has been adjunct faculty for Maryville University and Washington University School of Medicine in St. Louis. He was one of the first 1,000 people to be awarded a diploma in Football Medicine by FIFA's Medical Assessment and Research Center. Over the past 25 years, Paul has coached baseball, basketball, soccer, softball and track and field. When not working, Paul stays active with coaching his children and some of his family members' sports teams.
Tom McGowan, MED, LAT, ATC
ATHLETIC TRAINER
Tom has been an athletic trainer for seven years, with a Master of Education from Rockhurst University and a Bachelor of Science in athletic training from Central Methodist University. He's been with St. Louis Children's Hospital since 2018, covering areas of sports medicine, including emergency and preventative care, injury evaluation and clinical diagnosis, and therapeutic interventions and injury rehabilitation. Certifications, specializations and clinical areas of focus include Certified Athletic Trainer (ATC), Licensed Athletic Trainer (LAT), BLS and CPR/AED for Professional Rescuer, and FIFA Diploma in Football Medicine. In his free time, Tom enjoys cooking, exercising, soccer, golfing, watching NFL Football (Packers fan), and trying new restaurants or breweries. Schedule a Lou Fusz player appointment
Vidal Mora, LAT, ATC
WASHINGTON UNIVERSITY-SCHOOL OF MEDICINE, ORTHOPEDICS
LEAD ORTHOPEDIC TECHNICIAN
Vidal has been an athletic trainer for four years and has worked for St. Louis Children's Hospital for one year. In concurrence, he has been employed by Washington University Orthopedics for four years with a recent promotion to a lead orthopedic technician at the Children's Therapy Center adjacent to Progress West hospital. He holds great value in his wife and three children. During his free time, Vidal enjoys skateboarding, hockey, and self-improvement.
Camden Cripe
Cam is an athletic trainer on the Washington University and St. Louis Children's Young Athlete Center team and has been on the team since the Center's inception, and a practicing athletic trainer since 2016. Previously, he worked as an athletic trainer for Boeing, Seattle Sounders FC Academy and Amazon. Outside of athletic training, Cam serves as an officer in the Missouri Army National Guard. In his free time, he enjoys spending time with his fiancé, close friends and family and his dog, Auggie. He loves to stay active with CrossFit, running and any other outdoor activity. Growing up, Cam played football and wrestled, and has also completed two marathons.
Brandt Seward, SPT, ATC, LAT
Brandt graduated in 2018 from Simpson College in Indianola, IA with a bachelor's degree in athletic training and has worked as a certified athletic trainer since. During his time at Simpson College, he played football and ran track. Currently, Brandt is a second-year Doctor of Physical Therapy student at Washington University School of Medicine in St. Louis with an interest in using his skills as both an athletic trainer and physical therapist to improve the health of athletes. In his free time, he enjoys spending time outdoors, hiking, camping and fishing.
Kelley DeGreeff, ATC
Kelley has been an athletic trainer for five years, working at both high school and collegiate levels, and also in the clinical setting at St. Louis Children's Hospital. She is currently back in the classroom at Saint Louis University in the Physician Assistant Program (Class of 2020). She has always loved competitive sports and grew up playing volleyball and soccer at Nerinx Hall. She admits to having a love/hate relationship with running, and she enjoys using her ClassPass app to check out all the cool studios and activities in St. Louis.
Amy Prinster
Amy has been a certified athletic trainer for five years providing services for various populations and settings. She graduated with a bachelor's degree in athletic training and then pursued her master's degree in sports leadership shortly after. In 2019, she was fortunate enough to join BJC and is thankful for the opportunity to provide care to youth athletes. As a former soccer athlete, she relishes the opportunity to provide services for various soccer events.
David Piskulic, PT, DPT, SCS, ATC
PHYSICAL THERAPIST, SPORTS CLINICAL SPECIALIST, ATHLETIC TRAINER
David has previous work experience with collegiate athletics, Olympic level athletes, and professional athletes, having worked with Kansas City Chiefs as a student athletic trainer in 2004. He graduated from Truman State University with a Bachelor of Science degree and athletic training emphasis in 2005 and received his Doctorate in Physical Therapy (DPT) from Washington University in St. Louis in 2009. He became a Sports Certified Clinical Specialist (SCS) while practicing as a sports physical therapist at Seattle Children's Hospital in 2013. He has assisted with numerous community outreach programs and research studies within the Young Athlete Center. In addition to treatment of young athletes, he has experience as a lecturer and lab assistant with Washington University in St. Louis-Program in Physical Therapy, as well as being involved with lectures and presentations on local, state, national, and international platforms. When not taking care of athletes and teaching, he is active with running, hiking, and playing sports (especially soccer) with his wife and daughters.