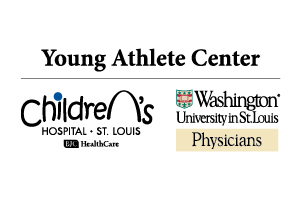 Official medical provider for Lou Fusz Athletic — providing resources, injury prevention programs and medical support for LFA athletes.
24 hour injury hotline: 314–273–9200
The orthopedic and sports medicine team at the Washington University and St. Louis Children's Young Athlete Center is dedicated to caring for kids of all ages with sports-related injuries. Conveniently located in the St. Louis Children's Specialty Care Center in west St. Louis County, with additional orthopedic services at St. Louis Children's Hospital in the Central West End, the Young Athlete Center offers:
Same-day appointments
Specialized, individualized medical care by Washington University pediatric orthopedic and sports medicine physicians
Injury evaluation and treatment
Injury prevention
Minimally-invasive, surgical treatment of sports-related injuries
4,000-square-foot sports therapy space, including turf field with soccer goals, basketball hoop, sprinting lane and advanced diagnostic technology
On-site imaging, including X-rays and MRI
Casting, splinting and pediatric specialty care of fractures
Sports-related concussion evaluation and treatment
Comprehensive care for the young athlete, including adolescent medicine, cardiology, physical therapy, pain management, sports psychology, rheumatology and nutrition.
On-site medical coverage by Young Athlete Center athletic trainers at select LFA tournaments
Injury prevention training exclusively for Lou Fusz coaches and players
Streamlined same-day appointment access for sports injuries with nationally-ranked Washington University sports medicine specialists
Priority access to the Young Athlete Center and the region's most specialized pediatric sports medicine providers offering  the full spectrum of care including medical and surgical treatment, physical therapy, nutrition and sports psychology
24/7 injury line for Lou Fusz Athletic players : 314.273.9200
Learn more at StLouisChildrens.org/LouFusz and on a recent feature on KSDK.