What is Box Lacrosse?
Box Lacrosse is a fast, more physical version of lacrosse that is primarily played in Canada. This version is played on a rink with boards, a 5v5 format, as well as a 30-second shot clock and smaller goals. Both boys and girls players suit up in full gear, including helmets, shoulder pads, rib guards, elbow pads, and gloves. This style of lacrosse requires speed, skill, tenacity, quick decision-making, and creativity to compete.
"The stick skills, shooting accuracy, the toughness – I could go on – that Box provides players when they go back to field lacrosse is so clear to those that have tried it," adds Todd Dillon, LFA Lacrosse Director and LFA Girls Box Lacrosse Coach.
USBOXLA Winter Nationals
At the USBOXLA Winter Nationals Event, the team had the opportunity to compete with and against the top Girls Box teams in the United States and Canada. Over the course of the weekend, LFA competed on three various indoor and outdoor facilities located around Phoenix, Arizona.
In addition to the event, a number of LFA players participated in the Arizona State Prospect Day and Sixes Clinic. Emma Miller (2024), Marin Lally (2025), and Millie Erikson (2027) had an impressive day and the chance to play in front of top collegiate coaching staffs.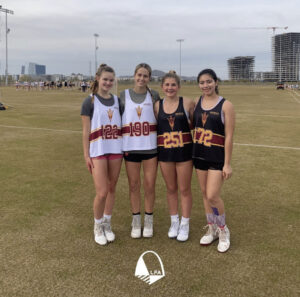 Emma Miller (2024) and Katie Smyka (2024) were also scouted and selected to play with Team USBOXLA this summer at the prestigious Trevor Wingrove Memorial Box Tournament in British Columbia, Canada in June of 2023.
When reflecting on how Box Lacrosse has impacted her career, Katie Smyka adds, "Box Lacrosse has helped me improve my decision-making, aggressiveness, ability to protect the ball, and shooting accuracy… I love it!"
To Be Continued
Simply put, LFA Girls Box Lacrosse made history.
This team was not only the first Girls' Box Lacrosse team from Missouri, but represented the United States as one of the first to play this version of lacrosse. Both players and coaches took this season as an amazing learning experience for all.
With great enthusiasm, Coach Dillon offers, "On behalf of the Lou Fusz Athletic Lacrosse Program and Box Lacrosse Staff, take a bow! History made!"
To learn more about our Lou Fusz Athletic Lacrosse Program, visit @loufuszlacrosse on your favorite social media platforms – Facebook, Twitter, and Instagram – or visit our website www.loufuszathletic.com!